How we observe planetary boundaries
Our planet has capacity limits for air pollution, biodiversity, the extent of climate change, and other factors. These are boundaries that must be respected if we are to preserve the basis for human life. The concept of planetary boundaries defines these guardrails. It comprises nine categories that are crucial to the health and viability of human civilization. We have already overstepped some of these boundaries. How can we return to the safe zone?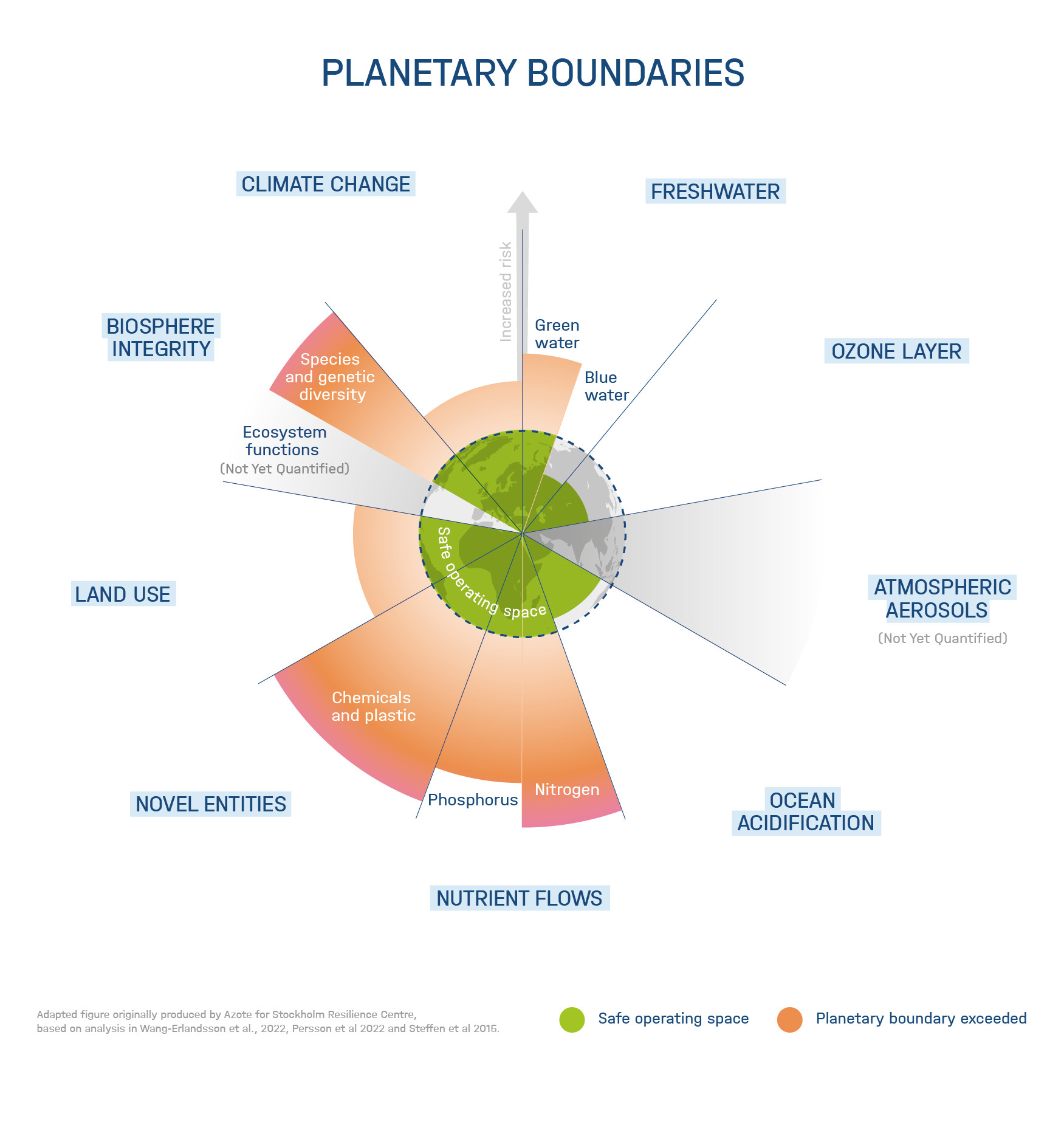 ©
Julia Blenn / Helmholtz-Klima-Initiative
Our modern societies have developed over the past 10,000 years in a relatively stable state of the Earth system during the Holocene epoch. But in recent decades, we have changed the conditions on our planet dramatically. Our greenhouse gas emissions are driving climate change and causing ocean acidification. Our fields, roads, and houses change the landscape, our vehicles and factories pollute the air. Some of the new chemicals we are releasing into the environment have a health impact on humans and ecosystems. We affect the hydrological balance, change important cycles, and are responsible for the extinction of many species.
Johan Rockström, a scientist at the Stockholm Resilience Center, found our interventions in natural systems are chipping away at the parameters required to sustain our own future. In 2009 he developed the planetary boundaries concept, which has since been modified several times. Below, on the occasion of Earth Overshoot Day, we show in a nine-part series which planetary boundaries have already been exceeded and which have not, how scientists determine this, and what we can do to ensure a safe future.
The illustration shows which boundaries we have exceeded and by how much. Click on the graphic to enlarge it. The green circle in the center symbolizes our safe operating space. The orange zones outside the center show where planetary boundaries have already been crossed and by how much. The situation in the gray zones is still unclear and requires more scientific research. Find the short version as well as the links to our in-depth articles on all nine planetary boundaries here:
The goal of establishing planetary boundaries is to act according to the precautionary principle, which states that environmental stresses that can also be harmful to human health should be avoided. In this way, potential risks can be avoided even when knowledge is incomplete. In other words, this is a way to avoid damage to the environment since our current state of knowledge does not allow us to assess impacts and interactions outside the safe parameters.
Six of the nine planetary boundaries have now been exceeded. For example, we have warmed the atmosphere by 1.2°C globally and are on our way to overstepping a variety of irreversible tipping points in the climate system.